ARTWORK INFO:

An audio/visual installation work devised for the Group show PREDATOR at Kx-Kampnagel, Hamburg.

The artwork 'Wichita Lineman 1:3000 Scale' is the culmination of a number of years R&D into representations of sound in visual formats. This work derives from audio data, that being the 70's country and western song 'Witchita Lineman' by Glen Cambell. A midi file version of the song can be accessed here for your easy listening pleasure.



best viewed with IE4+

PROCESS:

The GRP landscape in the photographs was generated from contour maps created from computer modelling data of the original song file. Computer audio visualisation processing software was employed to reconstruct the song using a series of 2D and 3D computer generated models from which the final version was modeled in clay and cast in GRP. The geology of the landscape is a direct copy of the computer model created from the the song data and gets its characteristics from the XYZ axis of time-frequency -volume.





The painting of the landscape is loosly based on the Scottish Highlands.


Photo 1. Click to enlarge

CONSTRUCTION:
GRP landscape
CD-Player-headphones
Birch plywood table+timber
Joiners tressle
Halogen light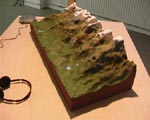 Photo 2. Click to enlarge

DIMENSIONS:
1m x 2m x 3m (variable)